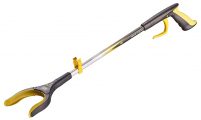 Aids for Daily Living are specially designed safety devices and aids that assist people who have difficulty in performing activities of daily living. These devices and aids can be applied in different situations, including dressing, feeding, toileting, bathing, grooming, household activities, and mobility (lifting and transfer).
These devices include but are not limited to: reachers, dressing sticks, long handle sponges, shoe horns, sock donners, hip kits, shoe helpers, bath boards, bath rails, bath mats, and much more.
To reach the front desk dial (940) 480-0455 and enter extension 106.
Choice Medical Equipment provides products and information to maintain safety, health and well-being, for easy, independent  living.
Here are just a few:
Bed Rails
Blanket Support Rail
Reachers
Eating Utensils
Gail Belt
Long Shoe Horn
Hip Kit
Toilet Paper Aid
Physician Stepstool
Button Aid
Leg Lifter
Dressing Stick
Bath Sponge
Sock Aid
Over Bed Table