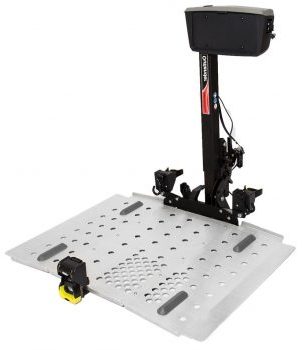 External Mobility Lifts
External mobility carriers are designed to carry your manual wheelchair, power wheelchair, or mobility scooter on the outside of your vehicle. They attach to the vehicle's hitch in the rear. The amount of weight you can place on external mobility carrier depends on the vehicle's hitch rating. A cover is highly recommended when you use your wheelchair or scooter with an external mobility carrier.
Internal Mobility Lifts
Internal mobility lifts are designed to lift your manual wheelchair, power wheelchair, or mobility scooter into your vehicle for transport. Lifts for trunks, rear storage areas, and truck beds are available. Most internal mobility lifts operate like a crane, but higher end ones have platforms that extend to the ground outside your vehicle allowing you to simply drive onto the platform and load at the touch of a button.
Hand-Operated Lifts and Carriers
Hand-operated lifts and carriers do not require any connection to your vehicle's battery greatly simplifying installation, just attach them to your vehicle's hitch. These lifts use ramps that make sure loading your power wheelchair or mobility scooter is virtually effortless.
To reach the front desk dial (940) 480-0455 and enter extension 106.
Chair Lifts & Carriers for Vehicles
starting at $
495
ea
Ask us about how to get part, or all of, your lift paid for!