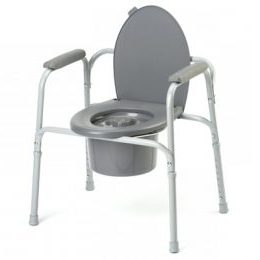 A commode chair is a portable toilet that can be placed at the bedside of a patient whose activity is limited. Commode chairs are often used in the home when the patient is too debilitated to reach the bathroom. A 3-n-1 commode serves as a bedside commode, raised toilet seat, and can also be used as a toilet-safety frame. In this mode, the back rail and bucket can be quickly and easily removed, allowing for the frame to be placed over the toilet to provide a surface for the user to grab hold of while using the toilet. It also serves as a guard to prevent the user from falling off of the toilet. The buckets on the commode can be removed and manually cleaned.
Large 16″ wide snap-on seat with lid for added comfort and support
Greater seat opening depth for hygienic purposes
Non-marring rubber tips have bottom hole for drainage after cleaning
Base depth 19″ and weight capacity for the standard commode is 300 lbs. (Heavy Duty option available)
To reach the front desk dial (940) 480-0455 and enter extension 106.
Pricing
Standard 3-in-1 = $60
Drop-arm = $125 – $145
Heavy duty = $120 – $205
Heavy duty drop-arm = $180