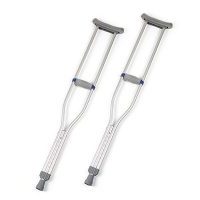 Crutches are a type of orthopedic mobility device used to assist people with knee, ankle, hip or leg injuries. They aid patients with limited walking ability and/or general weakness in the lower extremities to help walk and/or move about.
The Invacare Quick-Adjust Adult Crutches are designed with push-button height adjustments and user height guide right on the crutch so users can be fitted to the proper height. One-piece handgrip assembly eliminates need for wing nuts and other assembly pieces.
We carry petite, standard, and tall crutches. We also carry forearm crutches.
To reach the front desk dial (940) 480-0455 and enter extension 106.