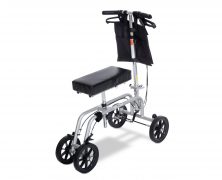 This ambulatory aid was especially designed to aid the recovery from injuries and surgical procedures to the lower limb, especially the foot and ankle. These may include but are not limited to the following:
Injuries: Broken or fractures of foot or ankle, strained or sprained ankles, and damage to the Achilles tendon.
Surgeries: Corrective surgeries to the foot or ankle, amputations, fusions, and hammertoe.
Unlike crutches, this device allows the effected limb to be supported so that the patient does not need to strain to keep it from bearing the user's weight and it is designed so that the limb never touches the ground. This device allows patients to be self-sufficient and get around with less expenditure of energy.
A crutch alternative for patients who either cannot or choose not to use crutches.
Exclusive transmission turning system!
The first unit with LOOP HAND BRAKES!
Includes vinyl pouch to store belongings.
Ergonomically designed, lightweight steel frame with wide flat free tires give extra stability.
Easy folding mechanism makes transporting unit a breeze.
Adjustable tiller & knee pad to accommodate different user heights.
400 lb weight capacity.
Pricing
Rental:
Week = $40
Month = $75
Purchase: $400 new
Ask about used knee scooter purchases
Insurance Requirements: We are not able to process knee walkers on insurance. Most insurance companies pay for the least costly alternative which are crutches.
Delivery Charges: Standard delivery charges apply.
Notes: Rental Requires Credit Card on File
To reach the front desk dial (940) 380-0455 and enter extension 106.