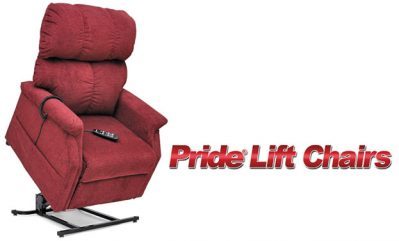 Lift chairs, which are also known as rise or recliner chairs, are chairs that feature a powered lifting mechanism that pushes the entire chair up from its base, and so assists the user to move more easily to a standing position. Lift chairs can be useful to the elderly, infirm, or disabled. They can aid comfort and mobility and also promote independence. Most lift chairs will work with weights up to 375 pounds although some can handle up to 600 pounds.
There are many reasons our Lift Chairs are the ultimate in comfort and style. Here are a just a few:
All our Lift Chairs are easy to operate. With just a push of a button you can stand or recline simply and smoothly.
With a full range of contemporary designs and a large selection of eye-catching fabrics, our Lift Chairs not only fit any décor, they add to it. Choose from dozens of fabric and color combinations.
Our Lift Chairs are engineered for high quality and long lasting durability. Every Lift Chair is subjected to extensive factory testing to ensure outstanding reliability.
Ask about features and accessories such as First-Up Technology, Heat and Massage, Extended Footrests, Cleaning Kits, and Protective Pads.
We keep more than a dozen lift chairs in stock and can special order any chair from our extensive catalog!
To reach the front desk dial (940) 380-0455 and enter extension 106.
Lift Chairs
starting at $
695
ea
Ask us about special ordering a custom chair for you!
LIFT CHAIR MANUFACTURERS:
Pride Lift Chair Quality and Options