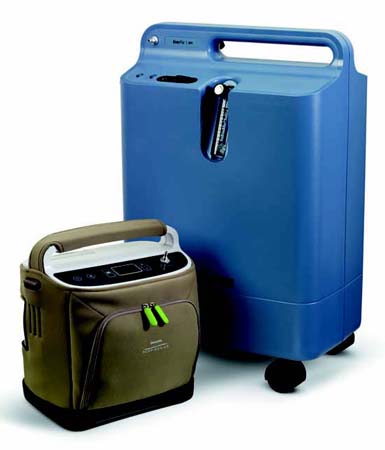 There are many options when choosing an oxygen system.
Concentrator
A stationary or portable device that extracts oxygen from room air, and delivers oxygen at high concentration to the user via tubing, face mask, or nasal cannula. A backup system, usually an oxygen gas cylinder accompanies a concentrator in case of power failure.
Oxygen Cylinders
Available in various sizes and stores oxygen in a gaseous state under high pressure. The smaller tanks are portable and are for use when away from home or as a backup system in case of power failure.
Oxygen Regulator
Oxygen regulators attach to the oxygen gas cylinder. This flow gauge allows user to adjust the flow to deliver a prescribed amount of oxygen.
Contact us about Oxygen Systems
To reach the front desk dial (940) 380-0455 and enter extension 106.
Featured – Oxygen Systems
OXYGEN SYSTEM MANUFACTURERS:
DeVilbiss

AirSep

Respironics

Invacare