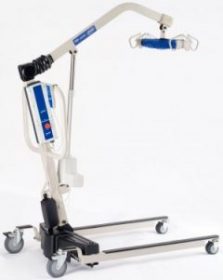 A patient lift (patient hoist, hydraulic lift, or electric lift) may be either a sling lift or sit-to-stand lift. This is an assistive device that allows patients to be transferred between a bed and a chair or other similar resting places, using hydraulic power. Sling lifts are used for patients whose mobility is limited. They could be mobile (or floor) lifts or overhead lifts (suspended from ceiling-mounted or overhead tracks).
The sit-to-stand lift is designed to help patients with some mobility but who lack the strength or muscle control to rise to a standing position from a bed, wheelchair, chair, or commode. They use straps, vests, or belts (as opposed to slings) to make the transition possible.
Contact us about Patient Lifts
To reach the front desk dial (940) 380-0455 and enter extension 106.
Pricing
Purchase:
Hydraulic = $895
Electric = $1,795
---
Rental:
Hydraulic = $125/month
Electric = $195/month
---
Insurance Requirements: DWO
---
Delivery Charges: Standard delivery charges apply. Route delivery available for insurance patients.
---
Notes: 
All hoyer lifts come with a sling

Rental Requires Credit Card on File
---