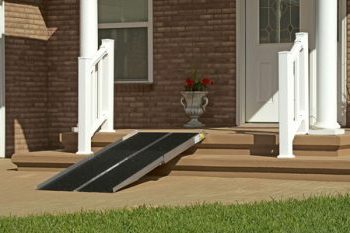 A wheelchair ramp is an inclined plane installed in addition to or instead of stairs. Ramps permit wheelchair and scooter users easier access into a building. A wheelchair ramp can be permanent, semi-permanent or portable.
Permanent Ramps are designed to be bolted or cemented in place.
Semi-permanent Ramps rest on top of the ground or cement pad and are commonly used for the short term. Permanent and semi-permanent ramps are usually of aluminum, concrete or wood. Aluminum ramps are more durable than wooden ramps and can be moved or reconfigured.
Portable Ramps are usually aluminum and typically fold for ease of transport. Portable ramps are primarily intended for home and building use but can also be used with vans to load an unoccupied mobility device or to load an occupied mobility device when both the device and the passenger are easy to handle.
Threshold Ramps allow easy access through doorways.
To reach the front desk dial (940) 380-0455 and enter extension 106.