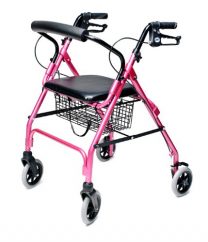 Rollators offers a comfortable, lightweight and affordable solution to mobility. Designed typically with an aluminum frame, these lightweight rollators weigh little and supports up to a 300 lb weight capacity. The Walkabout style we sell folds quickly and easily into a compact unit for storage and transport. 6″ wheel for outdoor or indoor use. Each rollator includes a basket that is either placed underneath seat or in front for carrying of personal items.
Available in many colors including: teal green, burgundy, pink, royal blue, aqua, lavender, champagne, black, and more.
Call and ask about insurance options.
To reach the front desk dial (940) 380-0455 and enter extension 106.
Featured – Rollators
starting at $
125
purchase
No rentals available
Rollator Manufacturers:
Roscoe = $125 and up

Lumex = $135 and up

Nova = $160 and up
Features:
Ergonomic hand grips

Easy to operate locking and "quick stop" loop brakes (pull up to stop; push down to lock)

Padded seat for added comfort

Removable padded slightly curved back bar with easy release pull knobs

Adjustable handle height to accommodate broad range of user heights

Weight capacity of 250- 400 pounds depending on model rollaotr

Hightech aluminum construction

Unit weight is 12 – 17  pounds depending model rollaotr

Folds quickly and easily for storage and transport