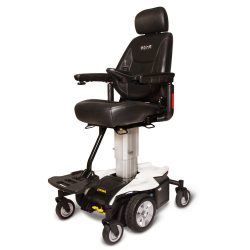 The Power Wheelchair offers a wide range of mobility solutions that are built for the real world. From easily portable power wheelchairs, to robust models with ATX Suspension for enhanced performance over varied terrain, there is a Power Wheelchair to suit anyone's needs.
A power wheelchair is appropriate if you are unable to propel a manual wheelchair or if you need to reduce the strain on your shoulders and arms so you can continue to perform transfers safely. Power chairs are designed for both indoor and outdoor use and are steered with one hand using a joystick. Power chairs are very maneuverable and easy to use inside the home. The choice of power chair will depend on many factors, including the kind of surface conditions the chair will be driven over, the need to negotiate thresholds and curbs, and clearance widths in your usual environment.
We have an ATP (Assistive Technology Professional) who is qualified to evaluate consumers for complex seating and positioning products, custom ultra-lightweight manual wheelchairs, standing frames, and power wheelchairs.
---
Notes: Can be purchased without prescription
---
Insurance Requirements
Due to the amount of paperwork that is required by the insurance company, this can be a lengthy process. Please contact us for further information.
Evaluation from ATP, OT, or PT

Detailed Written Order from Doctor

Face-to-Face Notes from the Doctor Outlining Need
---
Contact us about Power Wheelchairs
To reach the front desk dial (940) 380-0455 and enter extension 106.